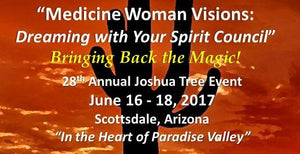 2017 Joshua Tree - Ceremony with Your Ancestor Meditation MP3
2017 Medicine Woman Visions: Dreaming with Your Spirit Council and we are Bringing Back the Magic! 
At this year's Joshua Tree Gathering, we awakened your dream body in new and exciting ways to move more deeply than before into shamanic Dreaming. Through meditation and guided visualization, we will:

- journey into the realms of the Higher and Lower Worlds,

- sit in ceremony with the new members of your Spirit Council that you meet, and

- honor them with sacred artwork, and join in joyous ceremony as you celebrate this wondrous event.

The Sisterhood of the Shields and I have created this event as an experiential offering in which you can stretch and strengthen your Dream Body, using Dreaming to re-write your own life story. As you deepen your shamanistic skills, you create a life of magic, mystery, love and power. You nurture your soul by strengthening your connection to your Spirit Council.

Prepare to be lifted to new heights of consciousness and most importantly feel your heart and entire being expand with unbelievable Joy.
 Includes:  This is one of 8 digital downloads.