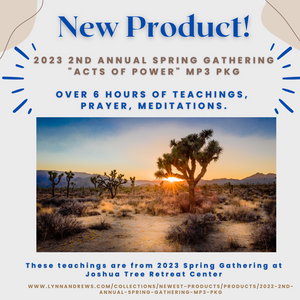 2023 2nd Annual Spring Gathering "Acts of Power" MP3 PKG
Regular price $59.99 Sale
Are you living the life you came here for?

The Thirteenth teaching is giving us permission to become all that we are. Take a ride on a goose, learn Morse code from the stars and dance with unicorns.
Your creativity, your humor and wisdom are waiting for you. The Powerful Dreamer is inviting you to navigate your way to the top of the mountain and speak your truth. Unite with the Sisterhood of the Shields and the Universal Dreamer as you name your own Acts of Power.

These teachings are from 2023 Spring Gathering at Joshua Tree Retreat Center, Thursday - May 4 to Sunday May 7, 2023.
Over 6 hours of teachings, prayer, meditations.

1  Opening Prayer
2  Opening Teaching
3  Power Animal Meditation The Navigator
4  Holding the Light
5  The Shadow Dweller
6  Ceremony for Erasing Personal History
7  The Merkabah Tourbillion Teaching
8  A Prayer for Peace
9  A Prayer for Joining Together
10  Another's Illumination
11  3 Doors Meditation
12  Sacred Task Introduction
13  Inside the Lotus Meditation
14  A Prayer for Entering the Silence
15  The Great Dreamer Meditation
16  Scrying
17  Butterfly Woman Meditation
18  Cree Song  A Prayer
19  A Prayer for My Mother and My Father
20  The Unicorn Teaching
21  The 13th Teaching
22  Story Goose Meditation
23  Grandmother Moon Meditation
24  The Unicorn Dance and Closing Prayer
25  A Prayer for Balance
26  Closing Teaching and A  Prayer for Waking Up Power
27  Closing Music