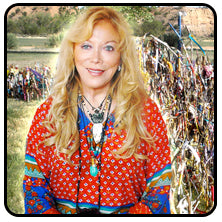 Act Of Power Online Video Workshop
Regular price $69.50 Sale
Once downloaded to your computer, the teaching components of this Workshop – Lynn's MP4 "Act of Power Video Lecture," MP3 "Sleeping Stone Meditation," and the PDF "Guide to Act of Power" are yours to keep forever, along with my answers to your questions!
IMPORTANT NOTICE TO WORKSHOP PARTICIPANTS:
All payments are non-refundable. Once you have paid for the workshop and the download link has been sent to you NO REFUNDS will be provided.
ACCESS: Once you have paid for the workshop, you will be given a link. Please allow time for the link to load. The link is to a PDF INSTRUCTION file with information on streaming/downloading and using the files for your workshop. It will INCLUDE download links to the files for your workshop. Please check your spam folder if you do not receive a link to these instructions. Also remember the folder where you download your files. Thank you.

In this Workshop, The Act of Power will start you on what may be the most important journey of your life. An act of power has to do with your passion. It has to do with your absolute focus and dedication in your life to manifesting your dreams in the world, and these teachings are the most important teachings that Lynn can ever give you because they are about living your life as an arrow, not as a target.
About the workshop
Welcome, everyone! Thank you so much for joining me on this journey into the power and wisdom of the Act of Power. An Act of Power is a practice and a ceremony that my teachers and I renew every year. The Act of Power is a pathway to discovering and realizing your full potential in life. It is about having the ability to access your own deepest passion so that you can manifest your dreams in the world. Each new Act of Power you create changes you in meaningful ways. It gives you new vision on this Mother Earth. It teaches you to know what you feel and feel what you know in your authentic self. When that happens, you can re-create yourself into anyone you want to be, and it is a true privilege to be able to bring these teachings to you. 
What will the workshop do for me?
Learn how to detach from the chaos of every day modern living regardless of what you are facing so that you can dedicate your life to what is real and true for you;
Discover within yourself the ability to place your focus on what is really important and stop allowing yourself to get caught up on the merry-go-round of distractions;
Learn how to identify and move beyond the "energy thieves" in your life and how to see them coming before you get trapped;
Experience for yourself the healing wisdom of Life and Death Prayer Arrows and the power of sacred ceremony as you learn new tools of personal empowerment and living a fulfilled life.
The Workshop includes:
An MP4 Video Lecture -  "Personal Act of Power" for streaming or downloading.
An MP3 Audio Meditation - "Sleeping Stone Meditation"
A PDF Document - your GUIDE to the ACT of Power Workshop
At the conclusion of your work, you will have the opportunity to submit two questions to one of Lynn's graduates will answer you individually by email.
Any time you have the opportunity to be out somewhere in the wilderness, take it with you as you walk and talk with your original power animal and form a new and growing kinship with Mother Earth and the life force all around you. And don't forget to send me your two questions.. 
In Spirit,

Testimonials
Lynn, it is hard to find words to tell you how much learning how to perform my own sacred ceremony, how to honor the things that are most important to me in a special and sacred way, has changed my and my whole life in wonderful ways. I can only say, Thank you so very much.  ~Lynette, WY
I have always been able to accomplish things for other people, especially on the job but also in my friendships. But when it came to myself, I always seemed to stumble around, not knowing where to start or how balance my time and my finances between the demands of the world and my own desire to be true to myself and my vision. The Personal Act of Power taught me how to do this, and I am forever grateful. Thank you. ~Rachel, UK