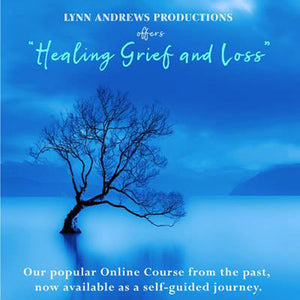 Healing Grief and Loss
Regular price $64.99 Sale
Self-Guided Course:  Healing Grief and Loss
Grief deepens you. It allows you to explore the perimeters of your soul. Grief is the only gateway to certain levels of consciousness, and it is a hard taskmaster. Through grief you can explore every aspect of your dark side – anger, pain, abandonment, terror, loneliness; and these are aspects of the sacred wound that in our daily lives we usually try to ignore. Grief forces you to look at those parts of yourself that are not yet healed. If you can look at grief as a teaching, you will grow. The pain of grief is not the only teacher in this life, but if looked at properly, with awareness and an open heart, it is one of the greatest teachers of all. The seeds of wisdom and enlightenment are planted within the wounds of grief. What is lost can only come back to us again in higher ways.
Included:  Healing Grief and Loss Handbook, Earth Wisdom: Death & Transition Meditation MP3 and the Video Conference with Lynn from 2015 on Healing Grief and Loss MP4
You will get a PDF with links to download files separately as they are too large for one file.