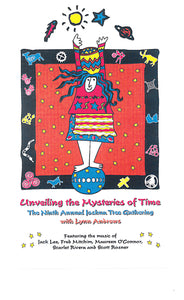 1997 JT Unveiling the Mysteries of Time MP3 Pkg
Regular price $59.99 Sale
All this weekend is about staying in the moment.  As you work through this event, please be conscious of both those aspects of being in the moment at the same time.  I'd like to try to move you into a place or a sense of not only yourself being present in the moment but a sense of oneness with all of life.
We are tied to this world by our beliefs and our point of view.  We are literally in bondage to the way that we see ourselves, and thus to who we are in the world.  I am going to ask you first to look and see where and how your energy is tied up in knots.  And then to consciously shift your perspective, your point of view, and be fully present in the moment, freeing yourself from this bondage forever.
To heal, it is essential to acknowledge in a sacred way the wound or the energy knot.  Realize that this symbolizes how you have tied yourself up in knots of self-doubt and fear, and the stress that you haven't got enough time.  
This Set Includes: 
Opening
Power Animal Mediation
Shadow Teaching
Past Lives Meditation
Teaching baskets, shadows, oracles
Future Life Meditation
Closing Lecture & Task Teaching
Prayers & Shifting Time Meditation
Ceremonial Elements
Ceremony Elements
Closing Questions & Answers
Over 6 hours of live teachings by Lynn Andrews.